It is a fact of our social order that physical appearance has an impact on our self-image and on how others perceive us. Wherever there is a loss of volume in the buttocks the sagging, flat, or hollow-like appearance it is important to that the butt have a rounded, well-shaped appearance, a more youthful look especially in form-fitting jeans and dresses.
The latest methods of micronized fat with adipose derived stem cells are especially good for buttocks to contour and enhance.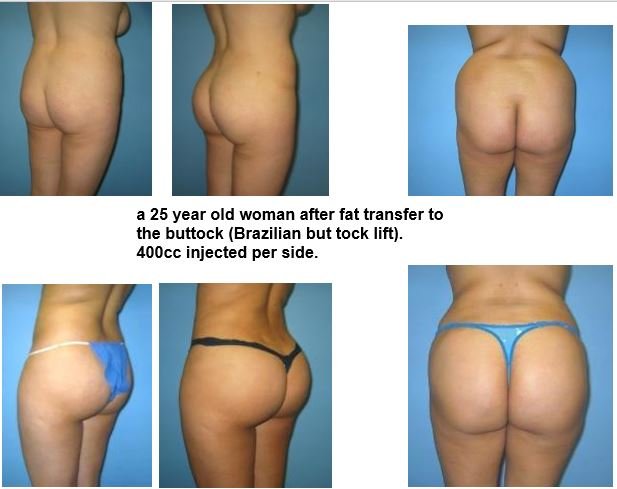 Using a patient's own fat offers a safe, unique advantage and creates an entirely new approach without the need for any foreign material being injected into the buttocks. The new advances in harvesting, purifying, and injecting have made it a very desirable option in butt enhancement and to overcome some of the signs of aging.
Autologous fat (your own fat) is especially suited for butt contouring even though in some cases the procedure may need to be repeated in order to build up volume and to compensate for a small amount of the fat being absorbed by the body; even so, using autologous fat is a long-lasting option
Living fat tends to form its own blood supply and the presence of stem cells helps in forming new blood supply
Fat is harvested from the hip, stomach, or other areas of the body where there is sufficient unneeded fat, and is then re-injected into the patient's buttock.
Advantages of Fat Transfer over Traditional Butt Implants
Long lasting results: Fat cells transferred to the buttocks do not dissipate like fillers. Therefore, there is often no need for a reinjection of fat.
Cost-effective: There is no limit on the volume. For instance, 1 ml of traditional filler costs the same as 50 ml of fat transferred to the butt.
There is excellent correction of butt imperfections with fat.
Fat from one's own body is safe, so there is no risk of allergic reactions or rejection.